Whether you're visiting the UK from abroad or enjoying a 'staycation' with your family (a prospect that looks ever more appealing these days), you might find yourself wondering what to do with kids in the UK? After all, holidays are the moments we want to remember, time spent together as a family creating memories that will last a lifetime. Never fear, there are, actually, lots of activities in the United Kingdom that will keep your kids happy. From well-known places to go with kids in the UK to some surprising new ones, we've got a selection of ideas based around one of the UK's best holiday destinations that will have your tribe jumping for joy and leave you with the most amazing memories!
No UK Family Holiday is complete without a Visit to the Seaside
Everyone always thinks of visiting London when they come to the UK, but we natives know there are much more family-friendly places. A trip to the seaside is as iconic as the fish and chips we eat there. Along the south coast, just a couple of hours from London, you will find one of the UK's most quintessential seaside towns. Bournemouth became popular with Victorian tourists in the 1800s and today, with its stunning bay and seven miles of golden sandy beaches, it is still one of the UK's best seaside destinations. So, if you're looking for places to visit in the United Kingdom with your family, it's an absolute must. Kids can have fun in the sand whatever the weather and Bournemouth will not disappoint on that score, as it has one of the UK's most kid-friendly beaches. That's not all, however, as it hosts many more fun and interesting activities for kids and adults alike. From the traditional fish & chips, amusement arcades and miniature golf to two historic piers and an eclectic variety of museums and galleries, Bournemouth really does have something for everyone and all weathers.
Enjoy the Promenade in Style Aboard the Little Train
What kid doesn't enjoy a ride on a colourful little train? No more cries of "My legs hurt!" or "Are we there yet?", something we often hear on holidays with kids. Instead, why not enjoy Bournemouth's beautiful bay in peace with the sea breeze in your hair and the kids kept happy. It also sports some nifty see-through sides to protect you if that breeze gets a bit chilly and the handy Family Ticket means it won't break the bank either.
Fly through the Air on the PierZip
If your kids are a bit older and you are looking for activities in the United Kingdom that are a bit more hair-raising, why not try the world's first pier to shore zip wire based on Bournemouth Pier? The Zip Tower platform is 25 m high and you zip down 250 m of wire to the beach. There are two zip lines, so riders can wave at their mate or have a good laugh at the look on their dad's face as they whizz downwards at high speed enjoying stunning views of the town. It's the most exciting way to put a new twist on a trip to the seaside.
Play the Coolest Game of Indoor Miniature Golf at Mr Mulligan's
If you've had enough of the beach or the weather has turned against you, perhaps a fun game of miniature golf may be in order. This is another traditional pastime on family holidays in the UK, but Bournemouth hosts one with a difference. As well as being completely indoors, there are three unique themed courses to try at Mr Mulligans. Choose the one that takes your fancy from 'Comic Book brought to Life', 'Unearthly Light Experience' or 'Apocalyptic Crash Scene'. It's like being inside a video game and, when you're all 'golfed out', you can grab a bite to eat there, too.
Discover your Under-the-Sea Adventure at Bournemouth Oceanarium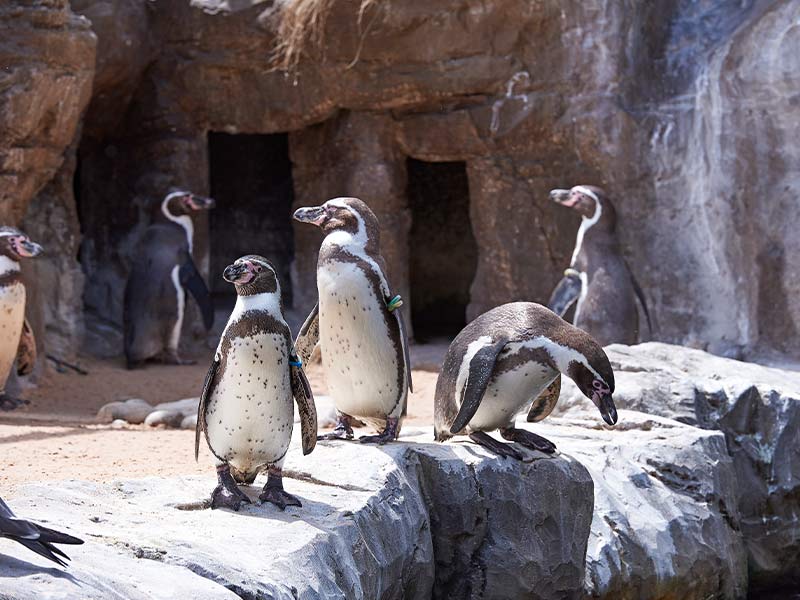 One of the most interesting things to do with kids in the UK is also to be found in Bournemouth. Bournemouth Oceanarium is a magical underwater world just waiting to be discovered. Whatever the weather, and let's face it the UK's weather is not always kind to holidays with kids, a visit to the Oceanarium is bound to be a hit. All the wonders of the ocean's depths are here, plus a whole host of fantastic sea creatures to encounter and learn about. It is one of the places to visit in the United Kingdom that will amaze and inspire you like no other.
The ocean is an enchanting world full of so many incredible creatures. Big ones, little ones, spiky and smooth ones, slow and graceful or super swift. Plus a myriad of vivid colours that will take your breath away. There are so many different displays, you're sure to find your favourite sea creature. Perhaps you love the playful penguins and otters best or the brightly coloured 'Nemo' clownfish, or even the menacing sharks. Whatever your pleasure, you'll find them all here. 

One of the Oceanarium experiences you won't soon forget is walking through the underwater tunnel that is part of the Shark Wreck Reef exhibit. Surrounded by colourful fish darting here and there, graceful stingrays, shy moray eels and enigmatic sharks, you'll feel like a real underwater adventurer. Keep an eye out, too, for the lively giant Loggerhead Turtle, Carrie, who's bound to want to inspect the strange new creatures that are invading her realm.
If that immersive encounter is not up-close enough for you, there's always one of the exciting Animal Experiences to try. There are opportunities to meet various amazing sea creatures and get involved in feeding them and enrichment exercises. From the water-based creatures, like the sharks, stingrays and giant turtle, to those who mix land and sea, like the penguins and otters. Whichever fantastic creature you encounter, it will be a memory to be cherished. For kids with a bit more time and a hunger to get involved in every aspect of the Oceanarium, there's also the opportunity to be an Aquarist for a Day. 
There aren't many fun places to visit in the United Kingdom that can also make you feel good about helping the environment. We're all aware of climate change and the need to be more green, so it's good to be able to enjoy a day out and still feel you're doing your bit. Bournemouth Oceanarium is involved in supporting several Conservation Programmes across the world. This means that by visiting, not only can you and your kids learn more about our amazing planet, but you can also know that you are helping to protect endangered animals, like the Monk Seal. The oceans are such an important part of our planet's ecosystem and marine conservation is, therefore, vital in the fight against climate change.
Undersea adventures and helping the environment can be thirsty work, so it's great to be able to relax for a while and refuel with a stunning view of Bournemouth's beautiful seafront. The Bay View Terrace at Bournemouth Oceanarium is one of the only spots in central Bournemouth where you can enjoy a drink or an ice cream in the sunshine while gazing out across the beautiful bay. On a fine day, you'll feel like you're somewhere much more tropical, especially knowing what magical marine creatures are swimming around underneath you! And if the kids still need to burn off some energy, there's Fun for all the Family with an Adventure Trail and Kids Play Zone.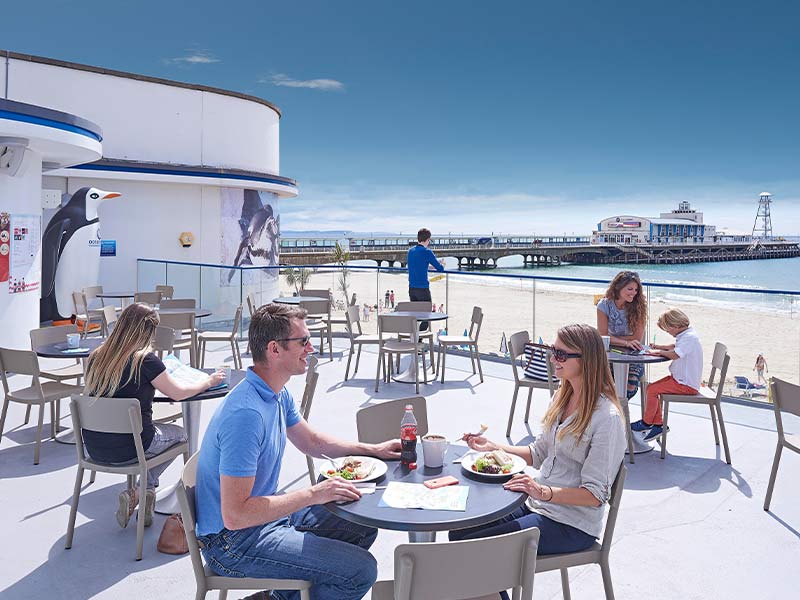 This little corner of England is one of the best places to visit in the United Kingdom for family holidays. Combining seaside fun with history, marine discovery and animal encounters. So, don't forget to put Bournemouth and its Oceanarium at the top of your list when looking for family activities in the UK.